Credit Card Machines » IP Terminals » VeriFone Vx570 Dual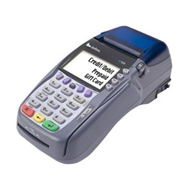 The Dual Mode VeriFone Vx570 Credit Card Terminal is the next countertop solution upgrade. The Vx570 supports a full range of value-added applications and EMV smart card transactions with its enhanced memory, while offering exceptional payment processing capabilities.
The VeriFone has both dial and IP-based communication options to provide efficiency and convenience. The Vx570's intuitive ATM-style interface, bold menu prompts, and its new anti-glare backlit display, improves usability.

200MHz, 32-bit ARM9 processor for exceptionally fast processing
Up to 12 MB of memory allows for multi-application capabilities
Dial communication module offers option to upgrade to dial and Ethernet without switching devices
Integrated USB technology port allows for secure and easy application downloads from a Flash memory drive
Built on the Vx Solutions infrastructure and its suite of familiar TCP/IP tools for smooth migration from Omni 3700 solutions
Intuitive ATM-style interface, bold menu prompts, larger pixels and white backlit display facilitate use and readability
Integrated Thermal printer with optional support for paper roll that is 40% larger than the standard size
Internal PIN pad supports debit and other PIN-based transactions
Triple-track card reader accurately handles most magnetic-stripe cards, including mini cards
Security Access Modules support multiple smart card solutions and offer added protection for EMV smart card transactions
Integrated high-speed thermal printer (18 lines per second) speeds overall transaction times from swipe to print
Most recent security, including end-to-end SSL encryption and sophisticated VeriShield file authentication to help prevent fraud and other software intrusions
Application separation at hardware and software levels minimizes or eliminates the need to recertify existing payment applications every time an application is added or modified and third-party applications can coexist securely


APPLY NOW FOR THIS GREAT OFFER

IF WE CAN'T BEAT YOUR RATE WILL GIVE YOU $250 DOLLARS CASH
RATES AS LOW AS 1.15%
FREE TERMINAL
FREE ONLINE REPORTING
NO APPLICATION FEE
NO ANNUAL FEE
NO MONTHLY SERVICE FEES
NO SET-UP FEES

Businesses Served
We were recognized for our ethics
We commitment to providing credit card!
LOW COST GUARANTEE
ON MERCHANT ACCOUNTS AND EQUIPMENT
We have the lowest prices available on merchant accounts and credit card processing equipment. We are so confident that our prices are the lowest, that we guarantee it!
Click here to request a Merchant Account or call: 1.888.519.6536