Looking to Work with the Best Credit Card Processing Company in America?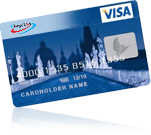 Did you know that when you accept credit cards online, you can expect your sales to increase by an astounding 50 to 400%? You simply can't compete if you don't accept credit cards. With our free online application, you can start accepting credit cards on your web site in less than 24 hours! In addition to accepting credit cards on your web site in real-time, you will also receive our simple-to-use, web-based credit card processing terminal so you can process transactions manually. With our versatile ecommerce software, you have a complete solution.

Now in our twelfth year and one of the first merchant services providers to offer Internet merchant accounts, we have thousands of satisfied customers in all 50 states! We can setup your business with a merchant account to accept all major credit cards and bank ATM Debit cards, at the lowest possible cost.

Charge USA is the largest supplier of credit card software on the Internet, including Payment Gateways and PC Software. We carry products from all major credit card software companies, including PC Charge, Authorize.Net and ICVerify.
Credit Card Processing Software

APPLY NOW FOR THIS GREAT OFFER

IF WE CAN'T BEAT YOUR RATE WILL GIVE YOU $250 DOLLARS CASH
RATES AS LOW AS 1.15%
FREE TERMINAL
FREE ONLINE REPORTING
NO APPLICATION FEE
NO ANNUAL FEE
NO MONTHLY SERVICE FEES
NO SET-UP FEES

Businesses Served
We were recognized for our ethics
We commitment to providing credit card!
LOW COST GUARANTEE
ON MERCHANT ACCOUNTS AND EQUIPMENT
We have the lowest prices available on merchant accounts and credit card processing equipment. We are so confident that our prices are the lowest, that we guarantee it!
Click here to request a Merchant Account or call: 1.888.519.6536