Credit Card Machines » Wireless Credit Card Terminals » VeriFone Vx670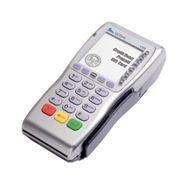 The Verifone Vx670 is the complete wireless payment solution in the industry's smallest footprint device, offering maximum convenience and usability. Built with a large, high-contrast display screen and a drop- and spill-resistant case, the Vx670 can be used anywhere, anytime, under any lighting conditions and in any environment.
The Verifone Vx670 portable device is easy to handle for customer-facing merchants, produces rapid transactions and receipts, and has high-level security safe-guard features, rendering remarkable performance and functionality.

Processor - 32-bit ARM9 microprocessor
Memory - Up to 12MB (8 MB of Flash, 4 MB of SRAM)
Display - 128 x 128 pixel graphical LCD with high contrast white backlighting; supports
16 lines x 21 characters with standard font-set
Magnetic Card Reader
Triple track (tracks 1, 2, 3), high coercivity, bi-directional
Optional Smart Card
ISO 7816, 1.8V, 3V, 5V or synchronous and asynchronous cards; EMV Approved
SAM Card Reader
Three Security Access Modules (SAM) (optional)
Keypad - 3 x 4 numeric keypad, plus 10 softfunction keys and 6 screen-addressable keys; PCI PED approved
Peripheral Ports - Single multi-port connector, which
supports RS-232, USB Host, USB Slave, and Integrated Charging
Printer - Integrated thermal with graphics capabilities, 18 lines per second, 24 or 32 columns; paper roll 38 mm with core (2.25 in.) x 15M, single ply
Wireless Modem - Wireless Wide Area GSM/GPRS on 900/1800 MHz or 850/1900 MHz; Wireless Local Area WiFi 802.11b/g; Bluetooth local area with communication
station supporting dial (same standards as Modem Dongle), LAN or Serial RS-232
Modem Dongle
Optional USB Modem Dongle for use with multi-port connector, or use in full-featured base. Standard 33.6kbps Dial modem (Bell 103/212a, ITU V.21/V.22/V.22bis/V.32/V.32bis/V.34, synchronous and asynchronous)
Protocols - Application selects between asynchronous protocols (Visa 1, Visa 2, and others) and synchronous protocols (including ISO 8583/SDLC)
Security - 3DES encryption, Master/Session and DUKPT key management; VeriShield file authentication; PCI PED approved
Physical - Length: 168 mm; Max Width of 78 mm, with reduced width of 70 mm at grip-zone; Height: 58 mm; Weight: Terminal 439 g (0.97 lbs), Full shipping 1,219 g (2.68 lbs)


APPLY NOW FOR THIS GREAT OFFER

IF WE CAN'T BEAT YOUR RATE WILL GIVE YOU $250 DOLLARS CASH
RATES AS LOW AS 1.15%
FREE TERMINAL
FREE ONLINE REPORTING
NO APPLICATION FEE
NO ANNUAL FEE
NO MONTHLY SERVICE FEES
NO SET-UP FEES

Businesses Served
We were recognized for our ethics
We commitment to providing credit card!
LOW COST GUARANTEE
ON MERCHANT ACCOUNTS AND EQUIPMENT
We have the lowest prices available on merchant accounts and credit card processing equipment. We are so confident that our prices are the lowest, that we guarantee it!
Click here to request a Merchant Account or call: 1.888.519.6536