Credit Card Machines » PIN Pads » VeriFone 1000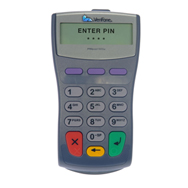 Verifone's PINpad 1000SE provides the perfect solution for acquirers, processors, and merchants looking to capitalize on the rapid growth of debit, EBT, and other PIN-based transactions.
Easily connecting with most existing POS terminals or electronic cash registers, the PINpad 1000SE offers a fast, simple way to be able to accept the latest in PIN-based payment.
The PED-compliant PINpad 1000SE puts merchants on the card industry's leading edge by incorporating a broad array of sophisticated security features to guard against fraud and abuse. This includes full support for the Triple DES (3DES) encryption standard, and a choice of Master/Session or DUKPT (Derived Unique Key Per Transaction) key-management methods. The PINpad 1000SE also supports MAC (Message Authentication Code). This technique protects the debit transaction data from accidental or fraudulent tampering during the transfer to its host.
The PINpad 1000SE features improved ergonomics with large, hard-rubber keys for ease of use, and a sleek new design that fits in the palm of a hand. The device is rugged and reliable, built to withstand the hard knocks at the point of sale. Most importantly, the PINpad 1000SE is fully compatible with the legacy PINpad 1000 and PINpad 101 families.

PCI PED approved to meet the latest standards for PIN entry security
Provides the best protection against fraud for you and your consumers.
Sleek design features innovative "grip zone" to reduce risk of dropping .
Larger, four-line display is very easy to read .
Intuitive key placement and large hard rubber keys simplify use.
Function keys can be programmed as "hot" keys for special tasks.
Enhanced graphics capabilities support larger fonts and languages with graphics-based character sets.
Optional privacy shield offers additional security protection for consumers.


APPLY NOW FOR THIS GREAT OFFER

IF WE CAN'T BEAT YOUR RATE WILL GIVE YOU $250 DOLLARS CASH
RATES AS LOW AS 1.15%
FREE TERMINAL
FREE ONLINE REPORTING
NO APPLICATION FEE
NO ANNUAL FEE
NO MONTHLY SERVICE FEES
NO SET-UP FEES

Businesses Served
We were recognized for our ethics
We commitment to providing credit card!
LOW COST GUARANTEE
ON MERCHANT ACCOUNTS AND EQUIPMENT
We have the lowest prices available on merchant accounts and credit card processing equipment. We are so confident that our prices are the lowest, that we guarantee it!
Click here to request a Merchant Account or call: 1.888.519.6536