Credit Card Machines » Wireless Credit Card Terminals » Nurit 8000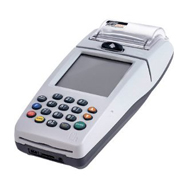 The Nurit 8000 remains one of the most advanced and reliable wireless credit card terminals ever made. As of Early 2008 however, the Nurit 8000 was discontinued and replaced with the Nurit 8020 wireless credit card terminal.
The Nurit 8000 is still available as a refurbished unit, but the unit is no longer PCI compliant. Click here to see our wide selection of wireless credit card terminals or here to go directly to the new Nurit 8020 wireless terminal page.

Backlit keyboard and large graphical backlit display are easy to read in the dark.
Customer-activated operation means consumers hang onto their cards.
Built-in PIN pad and optional smart card reader protects both you and your customers.
Can handle multiple payment types: credit, debit, T&E, EBT, check verification, guarantee and truncation, pre-paid cards, loyalty/gift cards, smart cards and proprietary cards.
Electronic signature capture speeds the transaction and archives the image.
"Store and forward" capability provides offline capture of transactions, enabling continued operation in low coverage areas.


APPLY NOW FOR THIS GREAT OFFER

IF WE CAN'T BEAT YOUR RATE WILL GIVE YOU $250 DOLLARS CASH
RATES AS LOW AS 1.15%
FREE TERMINAL
FREE ONLINE REPORTING
NO APPLICATION FEE
NO ANNUAL FEE
NO MONTHLY SERVICE FEES
NO SET-UP FEES

Businesses Served
We were recognized for our ethics
We commitment to providing credit card!
LOW COST GUARANTEE
ON MERCHANT ACCOUNTS AND EQUIPMENT
We have the lowest prices available on merchant accounts and credit card processing equipment. We are so confident that our prices are the lowest, that we guarantee it!
Click here to request a Merchant Account or call: 1.888.519.6536