Credit Card Machines » PIN Pads » Nurit 222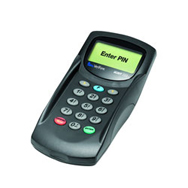 Accept debit transactions with the Nurit 222 PIN Pad. Along with enhanced durability, the Nurit 222 PINPad also has sophisticated security features.
The NURIT 222 is an easy-to-use PIN Pad enabling reliable PIN entry for debit transactions. Compact and lightweight, the NURIT 222 fits snugly into the palm of the hand, for easy and secure use.
The rugged design assures continuous, dependable service in even the most difficult environments. The unit is compatible with all NURIT terminals, electronic cash registers (ECRs), and third party POS Systems.
For security purposes, all pin-pads need to be encrypted by your merchant account provider. Charge USA will handle this service, free of charge, for all of our merchants. If you are currently using another processor, you will need to contact them once you receive the product.

Tamper-resistant, tamper-responsive, tamper-evident
Supports DES and Triple DES encryption
Supports Fixed, Master/Session, DUKPT
Complies with ISO and ANSI standards
Convenient handheld design
Easy-to-read large LCD display
Firmware upgradable
Compatible with all NURIT terminals, electronic cash registers (ECRs), and 3rd party POS systems
Impact-resistant construction


APPLY NOW FOR THIS GREAT OFFER

IF WE CAN'T BEAT YOUR RATE WILL GIVE YOU $250 DOLLARS CASH
RATES AS LOW AS 1.15%
FREE TERMINAL
FREE ONLINE REPORTING
NO APPLICATION FEE
NO ANNUAL FEE
NO MONTHLY SERVICE FEES
NO SET-UP FEES

Businesses Served
We were recognized for our ethics
We commitment to providing credit card!
LOW COST GUARANTEE
ON MERCHANT ACCOUNTS AND EQUIPMENT
We have the lowest prices available on merchant accounts and credit card processing equipment. We are so confident that our prices are the lowest, that we guarantee it!
Click here to request a Merchant Account or call: 1.888.519.6536