Credit Card Machines » IP Terminals » Charge USA FD50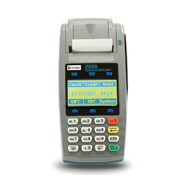 The Charge USA FD50 is an affordable IP-based terminal with dial backup and fraud protection security features. The FD50 reliably processes virtually every payment option including credit, debit, gift, EBT, and contactless payments.
Perfect for most merchants, the FD50 is equipped with 32MB RAM standard memory and allows for easy operation and flexibility to support future advancements of payment technology.

Rapid transaction processing using IP connectivity with dial backup
A fast, integrated 2.25" wide thermal printer that speeds through text, bar codes, and graphics to reduce customer wait times
Compact, small footprint design
Three-track magnetic stripe card reader with support for contactless payment processing
32 MB RAM memory capacity
3 USB ports and 1 serial port for peripherals and potential expandability
Address verification service
Quick and simple installation
Six durable screen-accessible keys
Secure Sockets Layer (SSL) encryption
Fast, hassle-free drop-in paper-loading


APPLY NOW FOR THIS GREAT OFFER

IF WE CAN'T BEAT YOUR RATE WILL GIVE YOU $250 DOLLARS CASH
RATES AS LOW AS 1.15%
FREE TERMINAL
FREE ONLINE REPORTING
NO APPLICATION FEE
NO ANNUAL FEE
NO MONTHLY SERVICE FEES
NO SET-UP FEES

Businesses Served
We were recognized for our ethics
We commitment to providing credit card!
LOW COST GUARANTEE
ON MERCHANT ACCOUNTS AND EQUIPMENT
We have the lowest prices available on merchant accounts and credit card processing equipment. We are so confident that our prices are the lowest, that we guarantee it!
Click here to request a Merchant Account or call: 1.888.519.6536