Credit Card Machines » IP Terminals » Charge USA FD100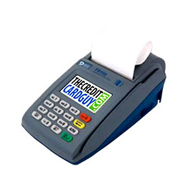 The Charge USA FD100 credit card terminal is perfect for any small business looking for affordable functionality. This touch screen terminal combines reliability, performance and security in an all-in-one POS solution.
With the FD100, you get one of the fastest and most secure touch screen credit card terminals available.

Help Improve Your Bottom Line
Accept all major bank and credit cards
Keep infrastructure costs low with a terminal and printer combination
Reduce chances of lost connection and lost sales
Deliver Superior Customer Service:
Improve your customer wait times with faster transaction times and a quick printer that speeds through text, bar codes and graphics
Utilize Customer Fraud Protection functions such as customer, merchant and report truncation features.
Easy-to-Use Technology:
Intuitive Touch Screen Display for ease of use
Fast terminal downloads using IP or dial-up over a standard 56K modem
Easily supports both IP and dial-up with secure socket layer (SSL) encryption
True 32 bit Processing - ARM 920T 32 bit CPU core
Drop-in paper-loading system is quick and hassle-free


APPLY NOW FOR THIS GREAT OFFER

IF WE CAN'T BEAT YOUR RATE WILL GIVE YOU $250 DOLLARS CASH
RATES AS LOW AS 1.15%
FREE TERMINAL
FREE ONLINE REPORTING
NO APPLICATION FEE
NO ANNUAL FEE
NO MONTHLY SERVICE FEES
NO SET-UP FEES

Businesses Served
We were recognized for our ethics
We commitment to providing credit card!
LOW COST GUARANTEE
ON MERCHANT ACCOUNTS AND EQUIPMENT
We have the lowest prices available on merchant accounts and credit card processing equipment. We are so confident that our prices are the lowest, that we guarantee it!
Click here to request a Merchant Account or call: 1.888.519.6536