Credit Card Machines » PIN Pads » Charge USA FD-10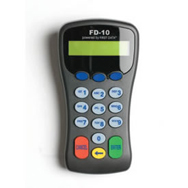 The Charge USA FD10 pinpad offers merchants the ability to securely accept pin based debit transactions. By adding a pinpad to your credit card machine, your customers are able to use their ATM / debit card as payment for your products. They will securely enter their pin number into the pinpad.
It is compatible with all Charge USA credit card machines, including the popular FD50, FD100, and FD200 terminal. In order to accept pin-based debit transactions, you must have your PIN pad encrypted by your processor. If you get the FD10 with a merchant account from Omega, it will already come encrypted for free! If you are looking for a secure pinpad for your business, the FD-10 pin pad is for you!

Accept PIN-secured payments at the point-of-sale
Achieve compliance with the latest specifications for PIN entry devices, including:
- Triple Data Encryption Standard (DES) certification
- Master Session
- Derived Unique Key Per Transaction (DUKPT) industry standards
Get full backward compatibility with previous generation PIN pads.
Connect to most POS terminals and ECRs.
Minimize operator errorâ€"Improved ergonomics with large rubber keys.
Enter personal data with easeâ€"Tactually discernable key pad that permits visually impaired customers to enter information without assistance.
Settle payments with their preferred methodâ€"Accepts all types of PIN-secured payments.


APPLY NOW FOR THIS GREAT OFFER

IF WE CAN'T BEAT YOUR RATE WILL GIVE YOU $250 DOLLARS CASH
RATES AS LOW AS 1.15%
FREE TERMINAL
FREE ONLINE REPORTING
NO APPLICATION FEE
NO ANNUAL FEE
NO MONTHLY SERVICE FEES
NO SET-UP FEES

Businesses Served
We were recognized for our ethics
We commitment to providing credit card!
LOW COST GUARANTEE
ON MERCHANT ACCOUNTS AND EQUIPMENT
We have the lowest prices available on merchant accounts and credit card processing equipment. We are so confident that our prices are the lowest, that we guarantee it!
Click here to request a Merchant Account or call: 1.888.519.6536