Credit Card Machines » Wireless Credit Card Terminals » VeriFone Vx610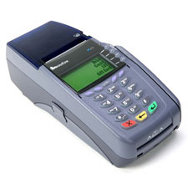 The Verifone VX610 is the latest in wireless credit card termianls from VeriFone. Its powerful processor and flexible design makes the VeriFone VX 610 one of the best wireless credit card terminals on the market.
The VeriFone VX 610 wireless credit card terminal delivers blazing performance, high-end functionality, and exceptional ease of use. The VeriFone VX610 swiftly handles even the most complex mag-stripe or smart card transactions, using a choice of the latest wireless technologies.

Integrated thermal printer produces receipts and reports at up to 13 lines per second.
Unique "clam shell" design has drop-in paper-loading. The hinged paper cover can't get lost.
Compact footprint saves counter space.
Easy-to-use ATM-style interface, with angled rubber keys and screen-addressable function keys, virtually eliminates clerk training and minimizes input errors.
Large (8x21), durable, liquid-crystal display is backlit, for improved readability under any lighting conditions.
Triple-track card reader improves read rates and handles all magnetic-stripe cards, including driver's licenses.


APPLY NOW FOR THIS GREAT OFFER

IF WE CAN'T BEAT YOUR RATE WILL GIVE YOU $250 DOLLARS CASH
RATES AS LOW AS 1.15%
FREE TERMINAL
FREE ONLINE REPORTING
NO APPLICATION FEE
NO ANNUAL FEE
NO MONTHLY SERVICE FEES
NO SET-UP FEES

Businesses Served
We were recognized for our ethics
We commitment to providing credit card!
LOW COST GUARANTEE
ON MERCHANT ACCOUNTS AND EQUIPMENT
We have the lowest prices available on merchant accounts and credit card processing equipment. We are so confident that our prices are the lowest, that we guarantee it!
Click here to request a Merchant Account or call: 1.888.519.6536